According to the Typealyzer, the author of this here blog is of type...
ESTP - The Doers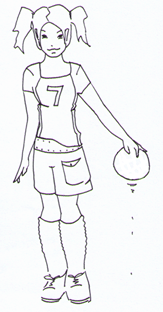 The active and play-ful type. They are especially attuned to people and things around them and often full of energy, talking, joking and engaging in physical out-door activities.
The Doers are happiest with action-filled work which craves their full attention and focus. They might be very impulsive and more keen on starting something new than following it through. They might have a problem with sitting still or remaining inactive for any period of time.
I normally test as INTJ (as does Lex, whose blog type also doesn't match his personal personality type).  My blog personality at least has one letter in common....
And now it's time to put my INTJ hat on and get back to work.  Once again, there's a difference of opinion between a client and an end user, and I'm being threatened with being sent overseas on the Gas Board's bicycle.  (I must have it waterproofed.)
(Is it just me, or is the new Typepad editor a Great Leap Backward?)